Antibacterial Hand Sanitiser
Product Description
Antibacterial Hand Sanitiser active ingredients: (Alcohol 75%; Benzethonium Chloride: 0.15%).
Our Antibacterial Hand Sanitiser is used undiluted to rapidly disinfect the hands. Easy and convenient to use, a popular choice for those who prefer a liquid alcohol-based hand rub.
Application areas
Indicated for rapid hand disinfection.
Suitable for use before and after every patient contact and in-between hand washes.
Instructions
Use undiluted. Dispense sufficient Antibacterial Hand Sanitiser to thoroughly wet the surface of both hands. Allow drying without wiping.
For soiled hands, wash with soap or handwash (or equivalent) before using.
Precautions (including but not limited to)
For external use only. Do not swallow.
Flammable. Keep away from fire or flame.
Avoid contact with eyes. In case of eye contact, immediately flush with water.
Discontinue use if skin irritation or redness develops.
Do not mix with detergents and other chemicals.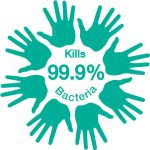 Antibacterial Hand Gel
kills 99.9% viruses and bacteria
Ordering
| MPC Code | Description | Size | Case Qty |
| --- | --- | --- | --- |
| 516500 | Antibacterial Hand Sanitiser | 500 ml | 16 |
Disclaimer
:
Please note that while every effort is made to ensure the accuracy of the content presented, it is purely for educational purposes only and is not a substitute for professional medical advice.