C-Foam Silicone Adhesive Border
Bordered Adhesive Foam Dressing
Product Description
C-Foam Adhesive Border is a self-adhering foam dressing, with an additional bordered edge, with a gentle, self-adherent contact layer. The high capacity fluid lock-away core indicated for use on moderate to medium-high levels of exudate for chronic and acute wounds. The hydrocellular foam layers work in unison to absorb and lock-away exudate while still maintaining a moist wound healing environment. A bacterial and viral barrier is also created by the waterproof, vapour-permeable film backing, minimising the risk of leakage and maceration and increasing wear time.
The advanced self-adherent layer provides secure dressing application and minimises skin-stripping, pain to the patients and trauma to the wound for superior use and comfort. C-Foam Adhesive Border is available in a wide range of shapes & sizes, including C-Foam Adhesive Border Heel and C-Foam Adhesive Border Sacrum, utilising all the technology of C-Foam Adhesive Border within ergonomically designed dressings.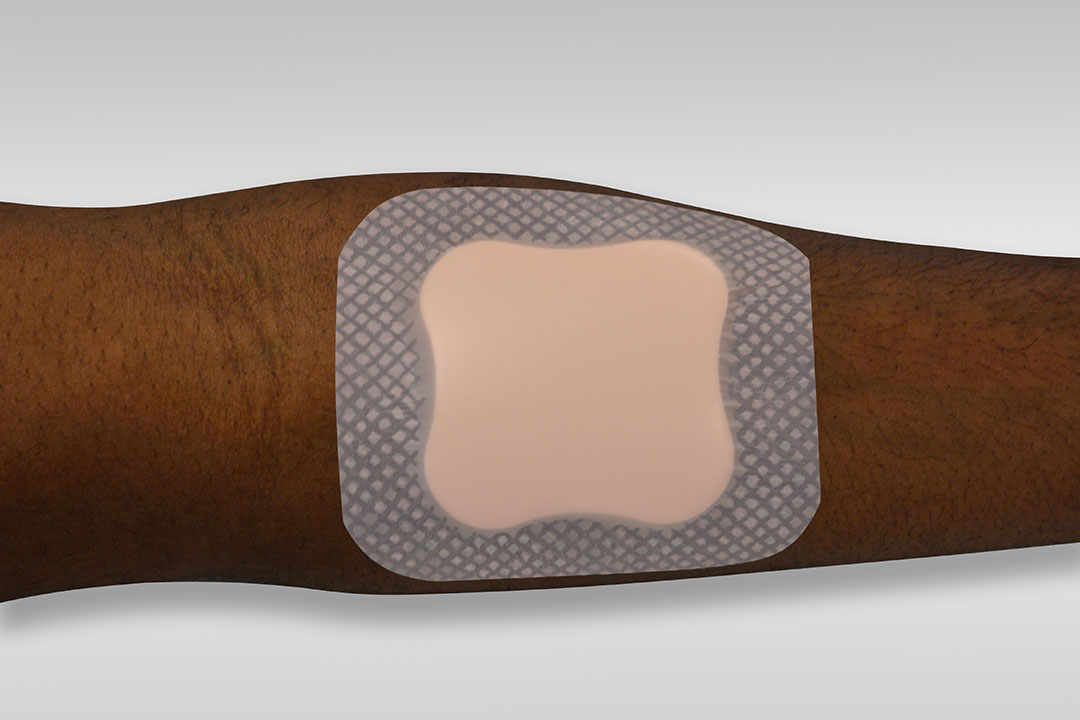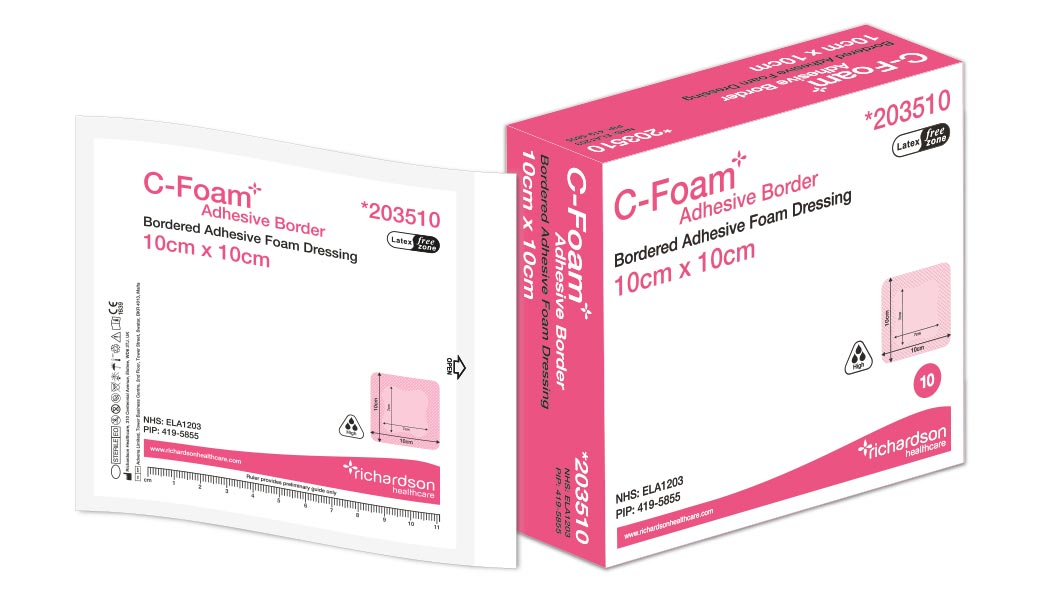 Features
Gentle soft adhesive, minimising pain during dressing change and removal.
Border provides added security and seals the wound margins to minimise maceration.
High absorbency and exudate management capabilities for optimised healing.
Waterproof, vapour permeable film backing prevents virus, bacteria and liquid penetration.
Highly conformable dressing that maintains a moist wound environment and comfort.
Suitable under compression bandaging and can be used in combination with gel treatments.
Instructions
1. Clean the wound area in accordance with local clinical policy. Ensure the peri-wound skin is dry.
2. Carefully remove the backing film.
3. Gently apply the adherent side of the dressing onto the wound site. Do not stretch.
4. If extra fixation is needed, fixate only on the borders of the product.
Indications
C-Foam Adhesive Border is indicated for the management of moderate to medium-highly exuding chronic and acute wounds including:
Pressure ulcers.
Leg and foot ulcers.
Traumatic wounds.
Surgical wounds.
Fungating Malignant wounds.
Superficial and partial thickness burns.
Skin tears.
Donor sites.
Ordering
| RHC Code | Description | PIP Code | NHS Code | Pack Qty |
| --- | --- | --- | --- | --- |
| 203575 | 7.5cm x 7.5cm | 419-5871 | ELA1197 | 10 |
| 203510 | 10cm x 10cm | 419-5855 | ELA1203 | 10 |
| 203512 | 12.5cm x 12.5cm | 419-5863 | ELA1316 | 10 |
| 203523 | 12.5cm x 22.5cm | 419-5889 | ELA1321 | 10 |
| 203517 | 17.5cm x 17.5cm | 419-5830 | ELA1200 | 10 |
| 203520 | 22.5cm x 22.5cm | 419-6366 | ELA1312 | 10 |
Disclaimer:
Whilst every effort is made to the accuracy of the content presented; it is for information purposes only and is not a substitute for professional medical advice.